Holiday with Kids
In summer you can enjoy a lovely holiday with children. The pool is fenced, we cook children friendly, there are lots of other children since we only receive families during the summer holidays. Simply Canvas Farm is located on 12.5 acres of land so there is lots of space to run around You can play ping pong, badminton, run over hay bales, football, swing in the hammocks and have a stroll along the chickens, ducks, rabbits and pigs. We always end the week with campfire & marshmallows and hang a wish in the wish tree (some have really come true). That's just on simply Canvas Farm. There are lots of fun things to do in the area also for smaller children like Chateau de Bridoire, a castle with lots of games, Accrobranche, the climbing forest and swimming in a swim lake in Lougratte or the Dordogne river. The medieval villages of Eymet, Duras, Miramont and Ste Foy la Grande are all within 15 minutes. Click here for more info on our region.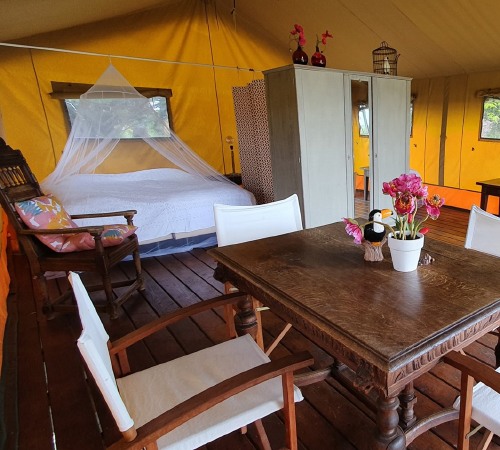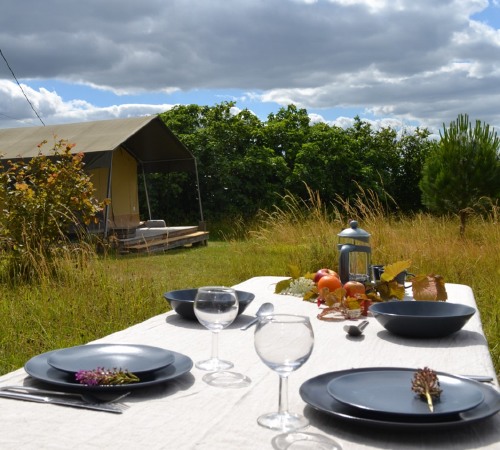 An Oasis and Good Food
"You have really made a little paradise." We are very happy to hear from our guests and many come back often. We are also praised for our food. We cook child friendly in summer. We set it up on a long table and everyone can get what they like to eat. We always eat together with other guests. Sample Menu:
Tomatoes and mozzarella, watermelon, green salad, raw veggies (tomatoes, cucumber, carrots and olives), local sausages or homemade veggie burger, pasta, fresh tomato sauce with vegetables from the garden, homemade pesto. French cheese as dessert or ice cream for the children.
Asian party: Spring rolls, salad with edible flowers, raw veggies (tomatoes, cucumber, carrots and corn), chicken, rice, satay sauce, prawn crackers. Different kinds of ice cream as dessert.