Sandra & Santi
Het is zo'n leuk verhaal hoe we elkaar ontmoet hebben dat Sandra er zelfs een heel boek over geschreven heeft (Levenreis naar Frankrijk door Sandra Alderden). Er had dan ook heel veel kunnen gebeuren onderweg of we hadden elkaar totaal misgelopen. Santi werd geboren in Laos ontvluchtte het land met zijn familie en groeide op in Frankrijk. Hoewel Santi een nobele achtergrond heeft, werd hij uiteindelijk een boeddhistische monnik in Sri Lanka, reisde de wereld rond en kwam weer terug in Frankrijk.
Bloemen en natuur zijn altijd centraal geweest in de familie van Sandra. Ze komt uit een nest van kwekers die teruggaat tot voor 1650. Met het volgen van een kronkelende weg langs zelfreflectie en economische carriere kwam ze tot rust op een mooi stukje Frankrijk.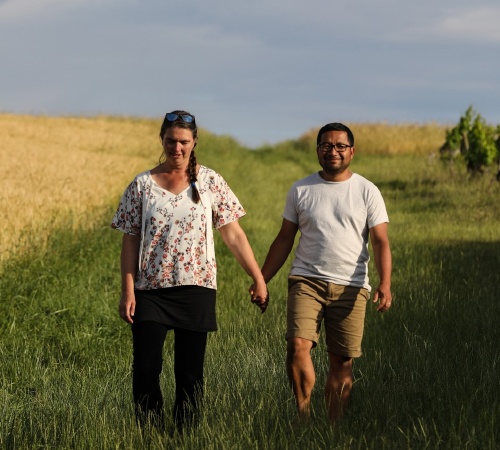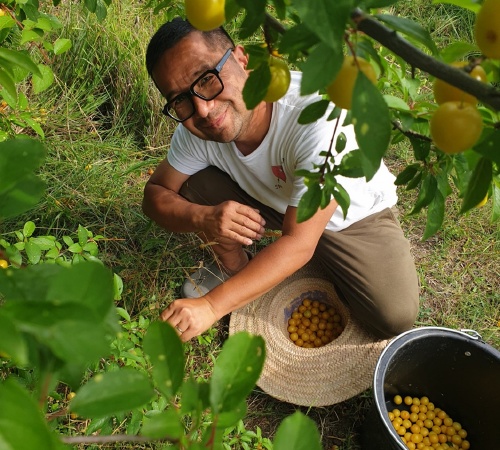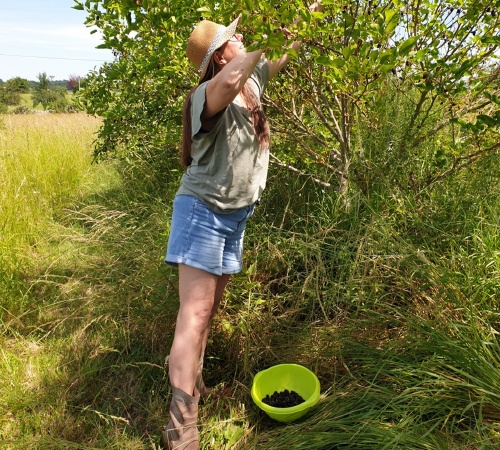 In een boeddhistisch klooster in Frankrijk ontmoetten we elkaar uiteindelijk, eerst als vrienden en pas jaren later begon onze relatie. Het is een lange weg vol met dromen hoe we uiteindelijk bij Simply Canvas Farm uit zijn gekomen en we zijn er nu zoveel jaar later nog steeds even blij mee. Onze voeten in de klei, ondernemen, wortels en zelfreflectie komt hier allemaal bij elkaar. We hebben ons hart verloren aan het land en tuinieren er op los in samenwerking met de natuur. We genieten van een mix waarin we een gedeelte van het jaar veel mensen ontvangen en gedurende de winter ruimte geven aan onze innerlijke kluizenaar met veel rust en stilte. Dan heeft Sandra tijd om te schrijven, bomen te planten en bloesemremedies te maken. Santi gaat naar buiten en vindt een nieuw kippenhok uit, speelt met zijn vissen of is binnen aan het gamen (ja ja, het is een geheime gamer).