The Writer's Garden
We created the Writer's Garden for you, writers. Come and find inspiration, rest, work on your novel, essay, poems, stories or columns. Write in nature, because you find the writer's garden in the middle of the country side of South West France. It's here that life moves in a calm walking pace instead of running. There is still time to have a talk at the baker's or to sit still and enjoy a beautiful sunset. There are 3 cottages and 6 safari tents for if you want to be extra close to nature. There is lots of comfort like enough pens, a pool, good beds and a camp fire. If needed there are programs for extra support, like coaching by a writing coach or alternate writing with gardening. The writer's garden is there for you to use in way that is good for you when you write on your project.
For years now we run our place as a bouquet of flowers. Bringing together all that we enjoy. First there was Simply Canvas, the holiday place, then we created our non profit garden Simply Permaculture and writing and speaking also has its place in the bouquet. Santi is the speaker between the two of us and guides groups through the garden or holds conferences. Sandra writes, since she was small with now two published books to her name and a computer filled with stories.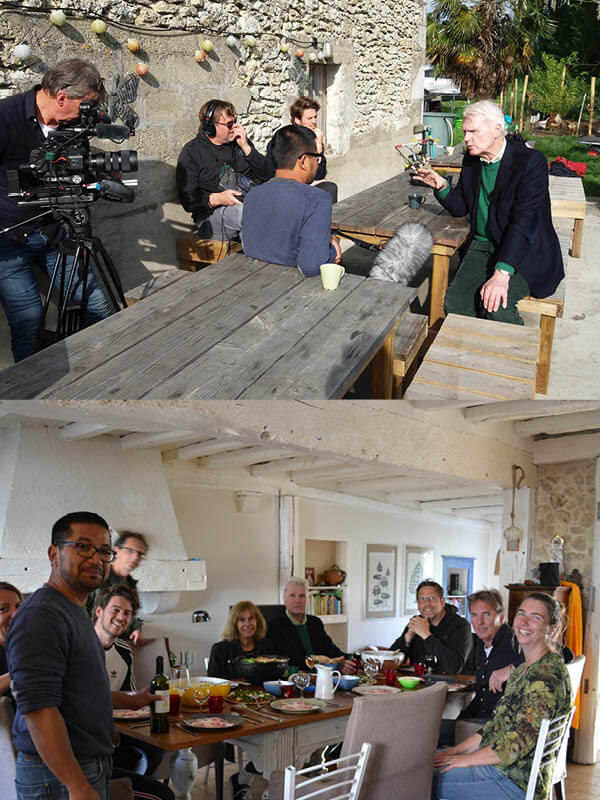 Beautiful references
A great number of writers have visited our place and they all agree. In a tent, a cottage, during a workshop or alone, stories are buzzing around you in the writer's garden. We were even honored with a few big Dutch writer's names who would come to film us for a documentary or relax and have a holiday. Writer's coach Yoeke Nagel has been coming for many years to us to offer writing workshops. It is an inspiration to receive and meet all these writers.
Famous Dutch writer Adriaan van Dis wrote us a beautiful reference:
Not the writing itself is hard, but the organizing of the circumstances to be able to write: enough food, an empty agenda, silence, exclusion and imagination. There is a place in South West France (on the edge of the Lot et Garonne and Dordogne) that meets several of the circumstances: The Writer's Garden of Sandra and Santi. You do have to bring some money, but the care you receive pays for itself. Everything flows in their garden – even the shower water is purified, reused and offers its nourishment to courgettes and lettuces. Permaculture it is called. However, most of all the mind flows. Sandra and Santi write themselves and know the art of not bothering you while still be present for you. The food is lovely. It is also possible to withdraw from everything and everybody. The only thing you need is the discipline to write, that you have to bring yourself…it doesn't cost anything, but effort. Should you not succeed Sandra and Santi might be able to help you with this. Both are disrobed Buddhist monastics (but definately not floaters), they know lots about concentration and mindfulness.
Adriaan van Dis